Ultraman Cosmos is a gentle Ultra from an unknown galaxy. He is known for his calm and gentle fighting style. As with the other Heisei Ultramen, Ultraman Cosmos has been adapted into a fan fiction by maxpower02 set in an alternate universe in Indonesia. Whilst the plotline mostly follows the series, there are significant modifications to the characters with Ultraman Justice appearing as well and several new monsters and plot twists.
Pre-Ultraman Cosmos
Edit
Ultraman Cosmos was a being from a galaxy of light, his duty was to patrol the universe for any kinds of threats or conflicts and will try to settle them in the most calm and peaceful manner, mostly without causing any bloodshed. One day, Cosmos heads for the planet Juran, having heard from rumors that the warrior of light protecting it has abandoned the planet. When he landed at the planet, Cosmos was shocked to see that the once peaceful haven was now a barren wasteland, its lush greenery has been replaced with dry sand and the beautiful buildings that once decorated the planet has been reduced into ruin. As Cosmos investigated the planet for any signs of life, he saw the ones who had caused all of this death and destruction – a cluster of destructive, infectious light called the Chaos Organisms. Chaos Header, the organisms' hive mind, saw Cosmos and immediately started its attack by firing several light bullets, forcing the hero off the planet. As Cosmos saw Chaos Header flying away from the ravaged Juran, ready to lay waste to another planet, the Ultra took chase. Eventually Chaos Header made its way towards Earth, where it announced its arrival to the Earthlings by destroying an Indonesian city as in its Chaos Organisms form. Later Chaos Header showed up at the artificial Eden Island, where it infected the peaceful monster Ridorias, turning it into Chaos Ridorias. Chaos Ridorias went on a rampage at Jakarta, in the process killing its caretaker, Dita Aprilia, as she was saving some children from Chaos Ridorias' energy beam. Cosmos, who has just arrived to Earth, was touched by this selfless sacrifice and merged with Dita, reviving the young woman and giving her the ability to summon the giant of light when in need.
Ultraman Cosmos
Edit
Cosmos would appear to face countless enemies such as Golmede, Gabora, Chaos Bug, Bemstar, and many more, destroying some and freeing others. Facing down lines of chaos monsters and new invaders, this new wave of attackers seemed endless. Later Cosmos also encountered Ultraman Justice, the warrior of light that previously guarded Juran, who has a vengeful vendetta against Chaos Header for destroying the planet that he protected dearly. Soon Cosmos and Justice clashed their ideals into the battlefield, before eventually working together to defeat their common enemy. Chaos Header and its Chaos Organisms soon began sending out stronger opponents for the two Ultras, sending out Chaos Header agents Chaos Header Iblis, Chaos Header Mebut, and Chaos Header Valkyrie. Unable to contend with them in just Luna and Corona Modes, Cosmos soon unlocks two other forms suitable for battling these threats, Eclipse and Future Modes. Justice later acquires Crusher Mode to keep up with his comrade.
Crossing Over into the Tiga Universe
Edit
TBA
Final Battle Against Chaos Header
Edit
TBA
Ultraman Cosmos: The Final Battle
Edit
TBA
Forms and Statistics
Edit
Body Features
Edit
Color Timer: Cosmos had a timer color like any other Ultras, it behaved in exactly the same manner.
Orb: A small crystal on his forehead.
Ultra Armor: Like any Ultra, Cosmos is resistant to beams and fire.
Arms: As a blue Ultra Cosmos strengths dwell in psychic and mental abilities using the power of light. His basic form is not well suited for combat compared to other red Ultras.
Standard Abilities
Edit
Acceleration: Cosmos can move at blinding speeds, however this is only for short bursts. The more powerful his form the greater his speed and its duration.
Mode Change: Cosmos can change into any of his forms at will. Unlike Tiga and Dyna who can freely cycle through Types for combat purposes, Cosmos changes his Modes in a sequential order, first appearing as Luna, then Corona, Eclipse, and finally Future. However he can revert back to Luna if necessary.
Relationships
Edit
Fighting Style
Edit
Cosmos generally did not destroy his enemies with any damaging abilities. Depending what being he that he fought, if he fought a simple misplaced or aggravated monster, he would calm the monster down. However if he fought a sentient and evil being he would be forced to destroy the aggressor. His fighting style in Luna and Corona Modes has been compared to the Crane Style of Chinese Martial arts, while in Eclipse and Future Modes Cosmos uses a variety of martial arts moves.
Transformation Item
Edit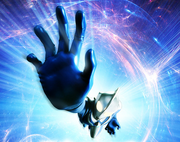 Cosmo Pluck: Dita holds the Pluck then holds both her hands to her chest in a formation as if she's holding on to a sphere, Cosmos' energy' then form in Dita's hands then flash away, Dita then immediately raises the Cosmo Pluck to the air and shouts "Cosmos!". Cosmos' then emerges in his default form, the blue Luna Mode.