The following page (Orochi-Bagan: Dragon Warrior) is fan fiction, it is in no way an attempt to make profit of any form from Tsuburaya Productions copyrighted characters. It is meant for the enjoyment of other fans of Ultraman and similar copyrighted characters.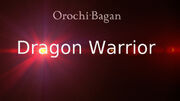 TBA
Part 1: The Destroyer
Edit
Thousands of years ago, in a far away galaxy, existed a race of great warriors.