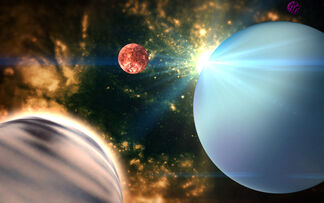 The BEER (
Bigimininimudnedsun Errerat Estalcocolacocola rem
; Nominese for Home of the world living might runners who drink many strong drinks) system is the place where the Nomians dwell. 
The only inhabited planet is Nomina, red and home to the Nomians. The other three planets are gass giants. 
The BEER System is mentioned and the planet Nomina is seen briefly in Ultraman Moedari Episode 7: Enter Omega. 
Ad blocker interference detected!
Wikia is a free-to-use site that makes money from advertising. We have a modified experience for viewers using ad blockers

Wikia is not accessible if you've made further modifications. Remove the custom ad blocker rule(s) and the page will load as expected.